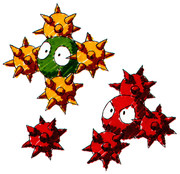 Orbinauts
are extraordinary creatures. Part animal, part machine, all nasty, they can be found underwater in the
Labyrinth Zone
, on dry land in the
Star Light Zone
and in the
Hilltop Zone
in
Sonic II
. They come in all colours, some of them throw four spiky missiles, some have missiles but don't throw them, and some don't even have missiles (
Sonic
's careful of those ones because they can't be killed) but they all have a middle bit with big eyes, and they are all slow-moving. If Sonic sees an Orbinaut, back away from it. Jump over the missiles, then attack. If they don't throw their missiles, Sonic jumps over them.
Ad blocker interference detected!
Wikia is a free-to-use site that makes money from advertising. We have a modified experience for viewers using ad blockers

Wikia is not accessible if you've made further modifications. Remove the custom ad blocker rule(s) and the page will load as expected.