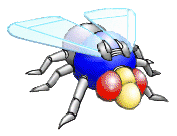 Like a microlite version of the
Buzzer
, the
Whisp
is a house-hold pest gone very, very wrong and needs swatting double-quick. Whisps hang around in gangs in the
Aquatic Ruin Zone
, teasing the dozy
Grounders
and beating up innocent bluebottles.
Sonic
spins like crazy when they're around and they get the message.
Ad blocker interference detected!
Wikia is a free-to-use site that makes money from advertising. We have a modified experience for viewers using ad blockers

Wikia is not accessible if you've made further modifications. Remove the custom ad blocker rule(s) and the page will load as expected.